It has been a very long time in the making—my life's work, in fact. But at last the first set of my Astrology and Mind book series is in sight of publication.
And more books will be added to that series over the next few years as they've all been progressing together! Plus another very different collaborative series that I'm hoping to publish later from 2022.
Initially, my comprehensive book series involving my astrology & mind research (and related topics) began its life in 1998, seemingly destined to be a single fat paper tome (of more than 550,000 words, mostly written in just 13 months!).
I was planning to be published in the year 2000, and already had a well-established American publishing house interested in the concept of my book.
But in late 1999, a tragic event interrupted my writing, and even though I spent the following decade deep in research and investigations, the book could not be completed. (That's a story for Oprah!)
A huge change arrived for me in 2011, when I sat in front of Dale Beaumont, one of Australia's most prolific authors (and now founder and CEO of Business Blueprint) who advised us to not think 'book', but to think 'book series'. Dale was the first person to convince me that self-publishing was the way to go — which also means I can publish many more than only one book from the series per year, which is impossible with regular publishers.
Books on the way in the
Astrology & Mind Series
The main theme of the series relates to 'consciousness', and how it can be explained through Astrology, while delving into the deepest questions about life. This is a new system of interpretation and new research I have been developing since 1986. Some of the books will also deal with my extensive research into subtle self-sabotage in career and relationships—this is also exclusive work.
The first book I'm planning to publish in late 2021/early 2022 is a prelude to the Astrology & Mind Series, in the format of a memoir/novel. It's title is In 5,000 Years: A True Novel. It's the first part of a future series A Reincarnation History that will elaborate on genuine past-life stories based on further research (if I live long enough!). (see the cover design and blurb — or in the Book Series menu tab↑ — more to come).
You Will Reincarnate: New Research Into the Quirks of Consciousness (see the cover design and blurb — or in the Book Series menu tab↑ — more to come). 
Pluto in Your Brain: Generations & Paradigms, a book for our times (see the cover design and blurb — or in the Book Series tab↑ — more to come).
Another early volume, Your Brain & Earth's Electromagnetic Field, describes how astrology actually works, with major references to the Earth's electro-magnetic field and the brain. I have never supported the standard catch-cry from many astrologers that Carl Jung's theory of "Acausal Synchronicity" is behind this profound science. (I find that a lazy, straw-grasping approach.) As a Buddhist, I firmly believe that all things are a manifestation of causes and conditions. Again, my proposal is based on decades of my own clinical research. This book also helps to elaborate further on the process of the transmigration of consciousness, the reincarnation of the mindstream, from the first book in the series (above). (see the cover design and blurb — or in the Book Series menu tab↑ — more to come).
Yet another volume takes a further leap to elaborate on the spiritual psychology of the Yogacara Doctrine of Mind (including the Buddha Nature), a sophisticated system of eight types of consciousness which Siddhartha Gautama, the man we refer to as The Buddha, had devised through his insights during the 6th century BC. Here, I have made major correlations to brain areas and astrological signatures. Again, this is original work that I've been refining since the late 1990s.
This brings us into the deeper implications of what it means to be a spiritually mature human being, living a life of compassion through inherent wisdom. The book that addresses this theme elaborates on the idea of the modern day Bodhisattva, the courageous, awakened person who wants meaning from life, and who recognises our social responsibility. This volume will hopefully inspire the entrepreneur/solopreneur to boldly innovate with confidence that the world can be changed in a way that benefits all.
The Insidious Saboteur in Your Psyche (see the cover design and blurb — more to come — or in the Book Series tab↑).
There will be other volumes that support these last two, especially, focusing on the idea of Exceptional Purpose as the new standard for business and cultural/social reform.
Flower Essences: Healing Subtle Mind-Brain Sabotage (see the cover design and blurb — more to come — it's also in the Book Series tab↑). A volume dedicated to Flower Essence Therapy. This will elaborate on what flower essences are, and how and why they work. Plus, I will publish some of my formulas that I have found to be effective for my clients and students. See also my website, BodhimindEssences.com for more information on flower essences and my formulas' descriptions.
And a separate book on Astrological Transits describing the responsible way in which we may still use the current astrological influences as opportunities to develop strategies for directing our future decisions. In this way, Transiting influences become natural timers for our deliberate spiritual development, without seeing these astrological forces as being (habitually) 'fatalistic'. This book also illustrates the common cycles of inner growth, instigated by planetary cycles, which we all experience from our birth to the end of our life; and their implications for our personal responsibility in the world.
A number of other books are also in the works to support these themes more specifically. I plan to be writing until I drop!
The Anthologies &
Other Publications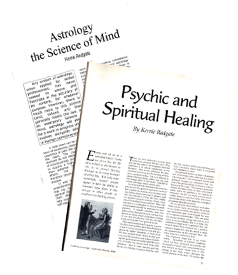 Archived published magazine articles by Kerrie Redgate in the late 1980s
Despite my beginnings as a prolific writer from around age 6 (poems, short stories, a play at age 9, the beginnings of a novel at age 10, and later song lyrics from age 15 to 29…), I hadn't had anything published until I produced a number of magazine articles from the late 1980s (Psychic and Spiritual Healing was actually published twice by the same magazine at their request). 
I later made my first anthology contribution to Ian White's book Australian Bush Flower Healing in 1999. Though, this was an odd experience, as my very rough first trial draft had been written quickly for basic subject approval, and so had been seriously altered (every paragraph!) by the editor (including some critical astrological spelling: I was not referring to the Kuiper Belt "trans-Neptunian" bodies, but the eight Witte-Sieggrün 'Transneptunian' Points—vastly different!).
And that badly edited draft was also published, instead of my third and final draft which also contained corrections to the chart! (Getting asteroid names onto a chart for print in those days was a literal paperprint-scissors-stickytape-scan job!)
… Self-publishing looking pretty good!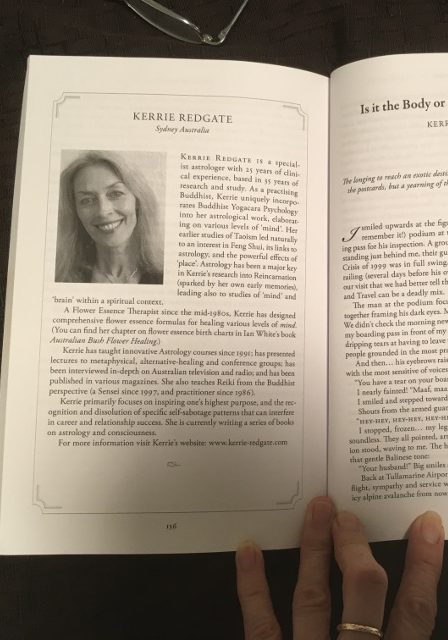 Yet, I was published again in another anthology in 2011, via the talented author/editor/multi-award-winning publisher, Sophia Fairchild of Soul Wings® Press. Sophia maintains a close working relationship with her authors, so this was a much happier experience than my first anthology contribution in 1999!
This 2011 book, Planet Whispers: Wisdom From Soul Travelers Around the World, has fourteen contributing authors, including Sophia, herself, and we received an award for the book, which is quite exciting! Also (at this time of writing), on Goodreads it's been given an average of 4.75 stars and 100% of people voting like it.
My chapter in Planet Whispers is titled "Is It the Body or the Mind That Travels?", uncovering the subtle astrological influences that are travelling with us in foreign lands, related to the role reincarnation plays in our travels.
"The longing to reach an exotic destination 
is not for the food, the entertainment, or the postcards,
but a yearning of the soul to complete something
undone long ago."
— KERRIE REDGATE
excerpt from "Is It the Body or the Mind That Travels?",
Planet Whispers: Wisdom From Soul Travelers Around the World
(Soul Wings®Press, ed. Sophia Fairchild, 2011)
My chapter of Planet Whispers also offers some clues as to how you can find your own personal Power Places. I gave away a little of my research in that book pertaining to the source of astrological influences, but that will be the focus of an entire book I'm currently completing.
. . . I do have to say, though, I have some issues with the Audible narrated version of my chapter in Planet Whispers, so I recommend the paper or ebook versions if my chapter is significant for you. See the detailed note at the bottom of this page ↓
Planet Whispers is available via Amazon (paper, Kindle ebook, Audible),
Kobo (epub ebook), Apple Books (epub ebook),
and can be ordered through your favourite book store.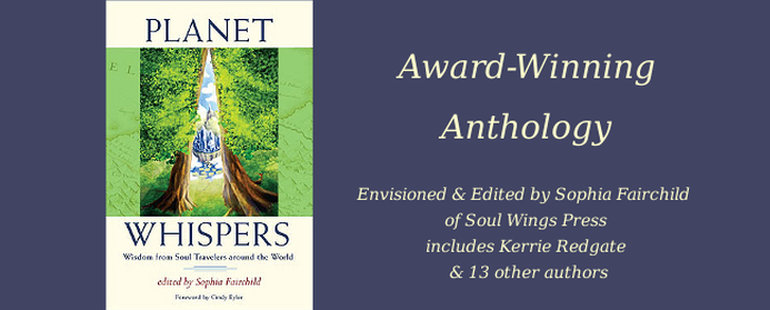 National Best Book Awards 2012—USA Book News Award-Winning Finalist
Category: Best Anthology—Non-Fiction
Read / Download Kerrie Redgate's
Soul Wings® Press Author Interview
direct download—no signup required
2011 was very much a writing year for me. I had also stepped up my blog production (which I'd started in January 2010) — now lost, thanks to Yahoo!'s shenanigans. (these days I have different web host for genuine customer service!) Though, I still have many of those original blog texts, so I may re-purpose some as a small ebook, and one genuine 'metaphysical' story has been added to my In 5,000 Years true novel.
(And I have since created the Exceptional Purpose Resource blog—see the Cult or Consciousness download below where you can be added to the newsletter list for the Resource blog and other things.)
Also that year, I was pondering deeply as to how on Earth I could slice up my gigantic 550,000-word manuscript into a series of books.
The result is that today I have about 12 books on the go! (And another 6 in the planning stages!). I'm hoping to have three indie published at around the same time (something you can't do with traditional publishing), so you can continue reading them as an interconnected series.
So many delays, but I'm now planning to make 2022 my publishing year! (2018 was a complete redesign of my major websites and the launch of my RedgateSpace web design service for especially my Exceptional Purpose astrology clients.)
If you are on my emailing list (see the purple 'grab it here!' button, below), you will be alerted to the brief periods when my books may be discounted, or pre-released especially for review purposes.
The initial ebook in the Astrology & Mind Series (You Will Reincarnate — read the blurb under the BookSeries tab in the site menu) will be free for a time in the digital editions and later available with a price tag for the print and audio version (with me narrating).
Overview of Basic Topics
Covered in the Series
A new more positive and inspirational interpretation of the Western (Tropical) astrological chart
 The use of thousands of asteroids as the body-text of your birth chart, to describe your deeper past and the concepts hidden in your brain
Unique research involving the eight Transneptunian Points for your higher spiritual evolution
 The Astrological Paradigms and how you can take advantage of their mass influence, personally and professionally
Astrology and The Yogacara Doctrine of Mind, one of the highest levels of Buddhist psychology
Some Taoist Philosophy to help bring you to wholeness and inner balance with the outer world
Flower Essence therapy to help retrain your brain
A little physics and new cosmology (no black holes, no dark matter, no dark energy!) to make sense of it all
General brain science, astrologically, to understand your mental and emotional processes
 The human energetic system related to astrological signatures including associations with the 'auric fields' of consciousness, chakras, and major meridians, all offering clues for the development of further diagnostic techniques in various fields
… and a lot more! …
I apologise for the enormous delay in getting this series of books out there, but I am intending that the wait will eventually prove its worth. And I thank those who have made inquiries over the years, for their patience and continued interest.
I've been very excited to find that the new science of consciousness, presently emerging in our Western technological culture, is now validating many of the theorems and discoveries I've been writing about in my book series.
I will now be able to refer to many of the new scientific studies being conducted at this time, and perhaps this has had something to do with the delay of my book series' publication. My dream of having astrology finally validated as a genuine science may possibly be moving closer to becoming a reality.
I owe a great deal of the success of this research to my clients and students, over the years, who provided the necessary feed-back, suggestions, and questions that led me to my present understanding of the wisdom and truth within the science of astrology, generally.
I also want to thank the good people at Literature & Latte for creating their fabulous Scrivener software for both Mac and Windows writers, and for making it so affordable for all of us!
Thank you
Every little bit helps to speed the process
Download a copy of Kerrie Redgate's 2008 Insight Magazine article Cult or Consciousness: A Global Ultimatum (written mostly in 2007), contrasting the previous global astrological era (from 1995 to 2007) with this current one (2008 to 2023), highlighting the big changes that were yet to come at the time of writing, from an astrological viewpoint.
Many of the issues mentioned have already surfaced (note the 'cult'/'tribal' movements emerging into public prominence), and we are now less than two years from the end of this paradigm! This article explains the Why. Also, it includes the advantages of this era, if we avail ourselves of the opportunities before they disappear.
YOU'LL ALSO RECEIVE FUTURE EDITIONS OF MY NEWSLETTER, WHICH WILL INCLUDE MY
EXCEPTIONAL PURPOSE RESOURCE GUIDES.
BUT EASY TO UNSUBSCRIBE IF YOU'RE NOT HAPPY FOR ANY REASON, My LIST IS NOW MANAGED AUTOMATICALLY BY THE GOOD PEOPLE AT MAILERLITE.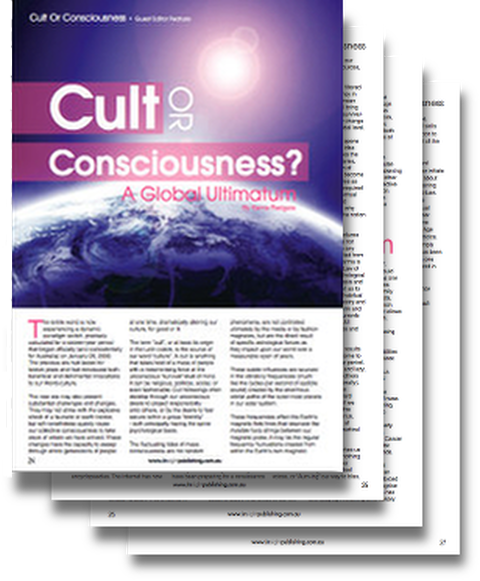 Note on 'Planet Whispers'
 (audio version)
There are some errors in the narration of the Audible version of my chapter in Planet Whispers. Despite my precise literary efforts to avoid confusion, the word 'tear' was mispronounced as though a rip rather than a little wet drop (even though that error made no sense to the plot!).
And also, more importantly, the following Bahasa Indonesia term "maaf maaf" (which I'd explained as "excuse me / I'm very sorry") was replaced by the narrator with a defiant "Uh-huh?", which was NOT what had happened in the actual incident!
It mortifies me to think that people hear this as me being rude to a Balinese official! I'd had a lovely exchange with that man—that was the point!
Also, I was surprised to find that there was someone on the planet, especially a narrator, who had never heard of Australia's iconic 'Bondi Beach', so it came out 'Bondee' (again, not as I had intended!).
Interestingly, I tested the ebook version on my older, original Kindle (that I still keep as a spare), which has speakers and the auto text-reader, and I found that the Kindle's AI voice handled both 'tear' and 'Bondi' perfectly! (Two points for AI !)
I haven't heard all of my chapter narrated, so I have no idea how the narrator handled the astrological terms! You may still be able to hear the first page of my chapter recited in the audio sample on the Amazon Audible page for the book (if it starts with "I smiled upwards at the figure standing behind…"). I hadn't been aware of an Audible version in existence before I'd found that page.
If you are interested in my chapter, my advice is to buy the paper or the e-versions (Kindle, Apple Books, Kobo, etc). And when I produce audio versions of my own books, I'll be the one doing the narration!
Cheers!
PS: If you are an aspiring indie author, yourself, head over to Joanna Penn's website, The Creative Penn, where life begins! (But do pop back!)